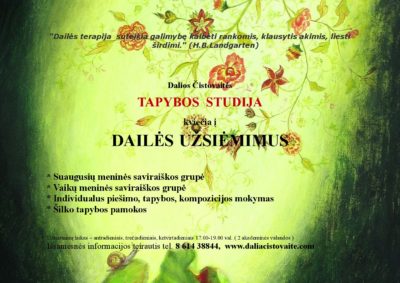 I invite everyone, children and adults, to dive into the flow of colors and shapes in art classes.
Every human being has an innate propensity for music, drawing, crafts, and technical creation. Everyone has talents and abilities. Artistic creation and self-expression help to achieve fullness, to experience the joy of creation, to relax from stress, to make life's rushing easier and more creative.

Workshops combine the elements of art, color, music therapy. Here we draw, paint, talk and learn not to be afraid to make mistakes. The creative process opens up new inner possibilities, realizes the forgotten, timid, long-lived creative impulses of the soul. Learning to freely express one's thoughts, feelings, moods in a safe group of like-minded people in a cozy environment. It's time for YOURSELF. For a meaningful conversation. And for inner SILENCE.

* Adult Artistic Expression Group
* Children's Artistic Expression Group
* Individual drawing, painting, composition training.
* Silk painting lessons
* Festive one-time art/silk painting activity (for hen parties, birthdays, personal occasions, time combined individually)
* Activities: Monday, Thursday (Adult Groups), Tuesday, Wednesday (Groups of Children)
Duration:  1.5 hours from 17.00 / 17.30 hours, if necessary, can be combined with day and time.
Tel. For inquiries: +370 614 38844.
Studio Address: Smilties pylimo g. 10, Klaipeda.