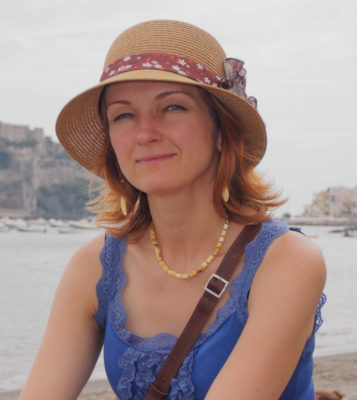 1970 was born in Kaunas.
1988 finished Kaunas Gymnasium of Arts.
1989 – 1996 studied painting at Vilnius Academy of Arts, Master of fine arts.
1993 starts to participate in the exhibitions.
1996 – 2010 teaching art disciplines at Kaunas Gymnasium of Arts.
2006 – 2007 art studio ArtClub for children and adults in Kaunas. Professional teaching of arts, individual art therapy.
D. Čistovaitė as professional artist is also interested in comparative religions, art and aroma therapy. She takes part in the seminars about art therapy, humanistic psychology.
2009 became a member of the Lithuanian Association of Artists.
2010 – lives and creates in Klaipėda.
2010 founds her personal painting STUDIO-GALERY in Klaipėda. There You can see her paintings, silk paintings – hand made sholws, buy them or order individual art work. The art activities for children and adults, silk painting lessons take place in the evening.
D. Čistovaitė uses acrylic and oil painting, watercolor, pencils, personal technique, silk painting. Since 1993 till now she organizes solo exhibitions and takes part in the group exhibitions. Her paintings are in the art collections in Lithuania, Japan, USA, Canada, Sweden, Italy, Germany, Australia.
SOLO exhibitions
1993, 1994  painting, Vilnius Youth Theater
1995  painting, "Skliautai" Art Gallery, Vilnius
1996  painting, Vilnius Academy of Arts Gallery
1997  painting, Kaunas Artists' House
1997  FROM ANGELS' LIFE, painting, Kaunas Philharmonic
1997  painting, Raseiniai and Jurbarkas Art Galleries
2000  LIGHT VISION, painting, "Langas" Gallery, Kaunas
2002  LIFE IS A GAME, painting, "Eglės" Gallery, Kaunas
2003  MEDITATIONS, painting, "Eglės" Gallery, Kaunas
2003  WE ARE THE ONE, painting, "Rūta" Gallery, Vilnius
2010  FLOWERS AND LITTLE STONES, painting, Klaipėda Public Library Art Gallery, Palanga Public Library Art Gallery
2012  SILK MEDITATIONS, silk painting, installation, Klaipėdos Gallery, Lithuanian Association of  Artists
2014  SEASHORE LABYRINTHS, painting on wood, Baroti Gallery, Klaipėda
2016  SEASHORE LABYRINTHS, painting on wood, "Parko" Gallery, Kaunas
GROUP exhibitions
Since 1998 Dalia Čistovaitė has a lot of group exhibitions.