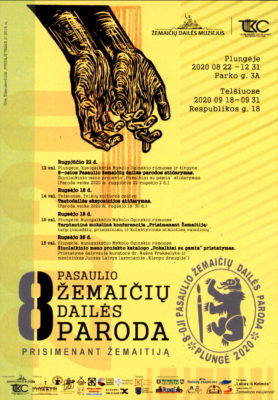 VIII World Samogitian Art Exhibition to be held in 2020 August 22 – December 31, dedicated to the view of Samogitia as a place of memory. We invite artists to rethink, emphasize and reveal images and places of memory in their works, which are identified or directly related to the representation of Samogitia as a historical, ethnic, cultural region.
This is my first time participating in this exhibition. Since I have been living in Klaipėda for ten years, I have mixed Samogitia along the way, climbing into many impressive mounds. I chose one of the motifs of the paintings for the cycle "About Paradise Gardens" from a bird's eye view of the Gondinga mound.
I was inspired by the photo of this mound by photographer Sigitas Kazlauskas. Thank Him for allowing me to use that image as a starting point for the picture! It is this painting that I show in the exhibition "Flying over Paradise. Gondinga Mound" (2018, 110×120, oil on canvas).

The moments from opening of exhibition